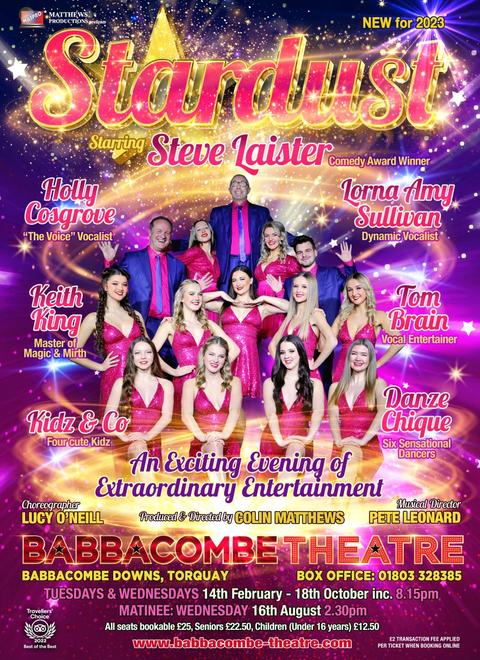 Tuesdays & Wednesdays 14th February - 18th October incl. 8.15pm Matinee: Wednesday 16th August 2.30pm
Stardust
Stardust is not just cosmic dust, it is often described as a magical or charismatic feeling, and in the all-new family variety show at the Babbacombe Theatre for the 2023 season, there will be magic with a large dusting of charisma from the 11 stars.
They say too when you get Stardust in your eyes it causes a pleasant dream-like feeling, and the surest way to make a dream come true is to live them, and with this production playing weekly throughout the year, you get to see first-hand, something that, One Way or Another, will bring this show to life with humour & heart, colouring your world!
When the worlds of comedy collide with that of music and magic the explosive results ensure you get what you would expect from a supernova; quality 5-star entertainment, featuring a constellation of stars, headlined by the winner of the 'Sir Norman Wisdom's Award for 'Comedy Excellence' Steve Laister.
In previous years many of the audience members have reviewed shows included, "Steve Laister – he should be on the TV". Well, he may not be on the television, but what the show's Producer/Director, Colin Matthews can promise is that Steve will once again, be doing what he does best… ENTERTAINING YOU, as he continues to introduce new never seen before, unique comedic characters, albeit he is as equally poised as a singer as he is a comedian.
Pitching towards the heavens and reaching beyond the cosmos with their astounding vocal ability will be star of 'The Voice' Holly Cosgrove, award winning vocalist Tomas Brain and national acclaimed singing sensation Lorna Amy Sullivan.
Hear them, sing hit songs that also feature on movie soundtracks Jailhouse Rock, The Greatest Showman, Moulin Rouge, Mamma Mia and from West End award winning shows, some still in production and with some old favourites Priscilla Queen of the Desert & Little Shop of Horrors. They are also as adept at performing pop hits old and new, with songs from Elvis, Elton John, Nat King Cole, Blondie, Abba, Bon Jovi and Take That. In fact, you can expect to hear music that spans no less than 9 decades!
And if you are still looking to be inspired then look no further. The special guest, comedy magician Keith King, his sorcery may not be quite what Hocus Pocus might conjure up, but his astral ability to amaze will make you question what you see.
However, it is no mystery as to why the vivacious, Danze Chique can charm an audience? Daring are the talents of resident choreographer, Lucy O'Neill, her skilful musical interpretation combines well with the exciting arrangements of Pete Leonard and the versatile dancers make light work of the routines that can literally suggest they are floating in the aether, along with four delightful little beams of sunshine, Kidz & Co.
It takes a great team to organise and orchestrate a successful theatre production, and Stardust will be no exception. What could be very ordinary becomes extraordinary when everyone gets the chance to shine. With the dynamic mix of a great script, combining classic variety from decades past with current and new topics, the cast performing on the Babbacombe boards will be looking to exceed audiences' expectations throughout the year.
"The stars will not look bigger, but you can expect them to look brighter"
TICKET PRICES
The following transaction fees are applied - £3 per ticket when booked online & £2 per ticket when booked by telephone. Not applicable when booking on site at the box office.
To view the venues seating plan please CLICK HERE
Box Office Prices
Tickets: £25. Seniors £22.50, children (-16 years) £12.50
Online Prices
Tickets: £28. Seniors £25.50, children (-16 years) £13.50
Telephone Prices
Tickets: £27. Seniors £24.50, children (-16 years) £12.50