COVID-19 Customer Information

Enjoying our events in safety
Updated 09/12/2021 - PLEASE NOTE: Our policies & procedures implemented since we re-opened on 17th May have altered over the months to allow for the latest government announcements and for the special measures that we have been asked to adhere to by Torbay Council.
We have enjoyed ENTERTAINING those of you that have supported us since we re-opened in May and we want to say THANK YOU, we appreciate your continued support.
In line with current government guidelines and restrictions, we are fully committed to making your visit safe and enjoyable, but please consider that with the announcement of Plan B for this winter period, we have had to make some changes to our procedures.
Safety Measures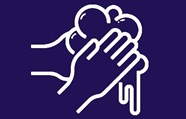 From Friday 10th December it is compulsory to wear facemask when attending the venue. Albeit you can remove them to eat, drink or sing.
Because we are a seated venue, it is not a requisite for us to check you have a vaccine passport or you can provide evidence of a negative lateral flow test within 24 hours of your attendance. However, out of courtesy to your fellow patrons and for your own peace of mind we would request you take a lateral flow test on the day you plan to join us. Unless guideline change, we will not be asking for evidence.
• There is now only some socially distanced seating for events, you will need to check with the Box Office if the show you wish to see has this available. Patrons are requested to advise the Box Office operative when booking, if they wish to be socially distanced from the bulk of the audience and we will do our best to comply. Albeit we will be spacing groups where we can. Note: Our capacity is 600 seats. Hand sanitiser and hand washing facilities are available, and we request that all patrons please use this facility on arrival.
• Increased cleaning schedule in the venue before, during and after every show, will continue.
• Contactless ticketing is available on request – *excludes group/coach party bookings.
• Each coach driver will be provided with detailed information regarding the safety and wellbeing of their passengers when attending the theatre and procedures for arrival and departure.
• Your seat number will determine the door you use to access/leave the venue via the foyer- signs will be in place. NOTE: A-Z 1-16 = RIGHT DOOR. A-Z 17-32 = LEFT DOOR
• Safety screen at Box Office.
All of our FOH team are vaccinated, however NOTE, all our staff will have taken a COVID – 19 Lateral Flow test prior to being on site.
We do have the venues QR code on display and you are able to opt to use the app to register with track & trace, should you choose to do so. But we will have contact details for those patrons that have booked tickets direct with the venue, whether online or via the website.
Customer information

The use of face coverings is now mandatory in all areas of the Babbacombe Theatre; unless you are eating, drinking, or singing
We would request that for the care of others and for your own peace of mind, you PLEASE take the Rapid Covid-19 tests and know you can report a negative result, prior to your theatre visit. Testing kits are easily accessible via most chemists, or you can apply online via the Governments official website https://www.gov.uk/order-coronavirus-rapid-lateral-flow-tests
All tickets can be booked online, via telephone or direct at the Box Office.
If you or any member of your party have had symptoms of COVID-19 in the 10 days prior to an event we would ask that you do not visit the venue and instead contact the Box Office by phone 01803 328385 or by email VIA THIS LINK
Please see the HSE website for further information on COVID-19.
If anyone in your group has any accessibility needs, please contact the Box Office prior to your visit - Tel: 01803 328385 OR VIA THIS LINK
CURRENT SPECIAL MEASURES IMPLEMENTED BY TORBAY COUNCIL ON GOVERNMENT ADVISE IS AS FOLLOWS
Get both vaccinations as soon as possible and give it time to work. Take advantage of the Booster if it is offered to you
Get tested even if you don't have symptoms if meeting with vulnerable people or you are attending a situation where you will be within a crowd
Comply with the legal requirement to self-isolate if you have symptoms or test positive. There is financial support available for eligible people.
Stay at home if unwell, to reduce the risk of passing on other illnesses onto friends, family, colleagues, and others in your community
Step up your COVID-19 safety: Meet in well-ventilated areas where possible, such as outdoors or indoors with windows open and keep thinking hands, face and space
AFTER A VISIT FROM TORBAY COUNCIL'S 'Covid Compliance Officer' who works in conjunction with the Community Safety department. #responsibleriviera, we were invited to an interview for a case study, to show how our re-opening safely could inspire other businesses to do the same. The case study is now featured on the Torbay Council's website - to read the article and see other featured businesses- CLICK HERE