Thursdays until 7th October 8.15pm (NO SHOW on Thursday 9th September) Matinee 16th September 2.30pm
I Love Music
It is said that a good song stands the test of time, and that can be said about the 40 musical numbers featured in a new show for 2021, I Love Music at the Babbacombe Theatre in Torquay. You can expect to enjoy a fun-filled production that will take you on an inspirational musical journey, encapsulating all genres on the musical spectrum spanning five decades.
Enjoy pop classics from Michael Buble, Rick Astley, Roy Orbison, Little Mix, The Osmonds, Abba, Shirley Bassey, Christine Aguilera and Dua Lipa; Motown Classics from The Temptations, The Shirelles & The Ronettes interspersed with some of the most favoured and popular songs from movie soundtracks which include, Monty Python's Life of Brian, Evita, You Only Live Twice, Prince of Egypt and Burlesque. Prepare to be starstruck too, with numbers from award winning musicals Matilda, Ghost and Hairspray, all performed by a cast of ten extremely talented vocalists, that know how to not only deliver a song but perform it with finesse.
"One good thing about Music, when it hits you – you feel no pain" Whilst this is a quote by Bob Marley, and relative to music specifically, it can also be said about the shows, host and compere, who can pack an almighty punch too: Andy Oakley.
Andy usually connects with the crowds by making them laugh, he is a versatile comedian, who can deliver a song as well as a joke. For some years he has been a firm favourite with Babbacombe audiences, whilst you will get a hint of his humour during, I Love Music, it will be his vocal prowess, that impresses.
Other cast members that will be hitting the high notes are, celebrated entertainer Dean Winters, Sami-Jane who is as adept at interpreting a pop hit as she is the most dramatic show song, ex Buck's Fizz music maker Paul Fordham, a Babbacombe favourite since childhood Becky Bennett, the stunning vocalist Eloise Cole, singing sensation Harriet Loveridge, vocal star Joe Harris, divine diva Sarah Montague & rising star Reece Williams.
A great song should lift your heart, warm the soul and make you feel good, imagine your euphoria after enjoying an evening with so many wonderful melodic memories all seamlessly merged together, by the show's Producer & Director Colin Matthews, Musical Director Pete Leonard & Choreographer Wesley Waring.
The show will run weekly EVERY Thursday until 7th October at 8.15pm with a Matinee performance on Thursday 16th September at 2.30pm.
ENJOY A GLIMPSE OF WHAT YOU CAN EXPECT TO SEE BY REGERING TO THIS LINK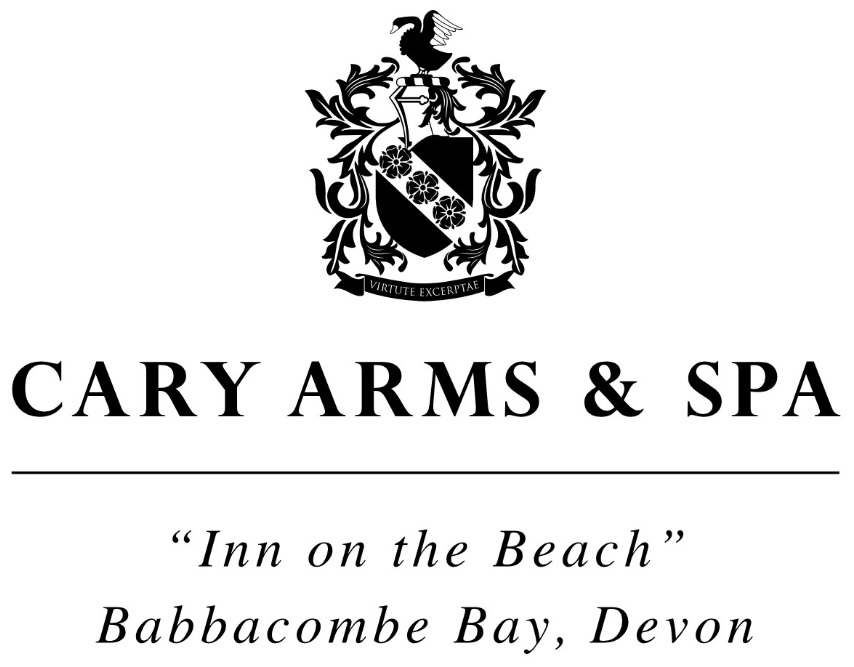 Sitting majestically in the beautiful Babbacombe Bay on the South Devon coast, the Cary Arms & Spa combines all the charm, personality and values of an English "Inn on the Beach" with the style & originality of a boutique hotel. The New England style, luxury sea-facing rooms and the contemporary chic beach huts and suites are ideal for couples. For families and friends, why not choose the freedom of one of our characterful coastal cottages? Hearty breakfasts, long lunches and lazy suppers; it's about delicious English heritage seaside food made with fresh, seasonal, local ingredients, simply and creatively cooked by our team of talented chefs. Unwind in the state-of-the-art Cary Spa with its waterfall hydrotherapy pool, sauna, steam room, experience shower and gymnasium. Discover the world of leading marine-themed French beauty and skincare brand Thalgo in one of the two treatment rooms.
Created by the de Savary family, this is the perfect place to enjoy chic beach living and all the pleasures and freedom of the coast. www.caryarms.co.uk
TICKET PRICES
When booking online there is a £2 per ticket transaction fee however, no credit card charges are applied.
To view the venues seating plan please CLICK HERE
Box Office Prices
Tickets: £19, Seniors £18, Children (-16 years) £11. ONE FREE CHILD WITH EACH FULL PAYING ADULT
Online Prices
Tickets: £21, Seniors £20, Children (-16 years) £13. ONE FREE CHILD WITH EACH FULL PAYING ADULT