VOUCHERS AVAILABLE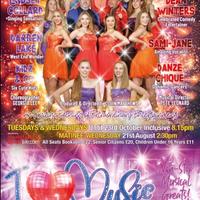 OFFER DURATION - 3rd May to 23rd Oct
Did you know, that if you see Starburst during 2019 on a Tues or Weds, you can collect a voucher from the Box Office to save £6 on a ticket to see I ♥ Music on Thursdays. The same is applicable if you see I ♥ Music first- a voucher is available to see Starburst with the same value dicount applied.
YOU WILL NEED PROOF OF PURCHASE for atleast 1 of the shows, to be able to redeem a voucher from the Box Office.
You cannot redeem this offer on line.
THIS OFFER DOES NOT APPLY FOR GROUP BOOKINGS, albeit your theatre representative can offer you a discounted return visit.
The £6 discount is applied to the FULL ADULT TICKET PRICE only and cannot be used in conjuntion with any other offer.
STARBURST - Tuesdays and Wednesdays until 23rd October 8.15pm. MATINEE: Weds 21st August 2.30pm. Tickets: £22, Seniors £20, Children (-16years) £11
I ♥ MUSIC - Thursdays until 3rd October 8.15pm,. MATINEE: Thurs 12th September 2.30pm. Tickets: £19, Seniors £18, Children (-16years) £11. ONE CHILD FREE WITH EACH FULL PAYING ADULT