Wonderful Christmastime. 241 TICKET OFFER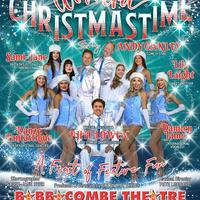 OFFER DURATION - 16th Oct to 29th Dec
You can book tickets to enjoy this year's festive seasonal show, and benefit from 2 tickest for the price of 1.
This offer is only applicable against two perfromances for the show, Wonderful Christmastime and is subject to availability.
The dates and performance times this offer is available are: WEDNESDAY 18th DECEMBER & SATURDAY 28th DECEMBER at 3pm.
To redeem this offer, you will need to quote, the OFFER CODE, either with the Box Office, on 01803 328385 OR when prompted to do so, if booking online ( PROMO CODE).
OFFER CODE = WCT19.
T&C's. Available only to patrons using the offer code. The offer code must be quoted when booking directly with the box office or when prompted to do so when booking on line. VALID ONLY on the dates specified.. Maximum 2 transactions per booking. (4 TICKETS PAY FOR 2). Based solely on the full ticket price of £22. Not available against tickets already purchased.
Tickets: £22, Seniors £20, Children £11. Boxing Day & New Years Day performances £23/£21/£12
PLEASE NOTE: When booking online, a £2 per ticket transaction fee is applied
To read more details about this show, please CLICK HERE
ALL PERFORMANCE DATES & TIMES
Wednesdays 30th October. 6th, 13th, 20th & 27th November. 4th & 11th December 3pm & 8.15pm. Wednesday 18th Dec 3pm. Boxing Day 12 Noon & 3pm. Saturday 28th December 3pm.
New Year's Day 12 Noon & 3pm.
Purchase now!